All the Jeff pics there are! (If I'm wrong please send me them.) I claim no ownership of any of these pics, for that wouldn't be any fun for other Jeff fans who want the pics.
Robot! can be found here:
Everything but Robot can be found here:
Channel101.com Jeff Davis's work
Jeff Davis's Batman
Computerman
Dan Harmon's Batman (Mailbox Thief)
House of Cosbys (not too bad of a cartoon version of him, don't you think?)
Laser Fart
Robot!
Twigger's Holiday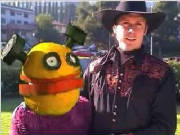 Ultraforce